PHILIPPINES MISSION
The Lord is his divine ordination and destiny connected us with Pastor Advento of King Jesus Christian Fellowship, Dipolog Philippines via the Internet in 2006. After praying and seeking God's face, it was obvious to me that we should go to Dipolg not Jos, Nigeria. What was initially conceived to be a crusade turned out to be a mission field. We have been asking God for uttermost part of the world according Psalm 2:8, and
this is just the beginning of God answering our payer.
We obeyed God and he showed himself awesome. Many souls were snatched from
the kingdom of hell into the glorious kingdom of God. I had nine sessions of ministrations and teachings in all, apart from counselling sessions. The presence of God was obviously present throughout the different sessions, confirming his word
with miracles, signs and wonders.
Pastor Advento, Dr Kyari and Orphans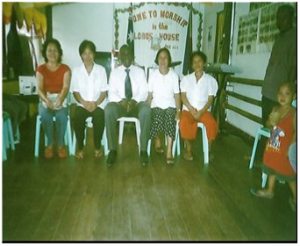 Dr Kyari and widows